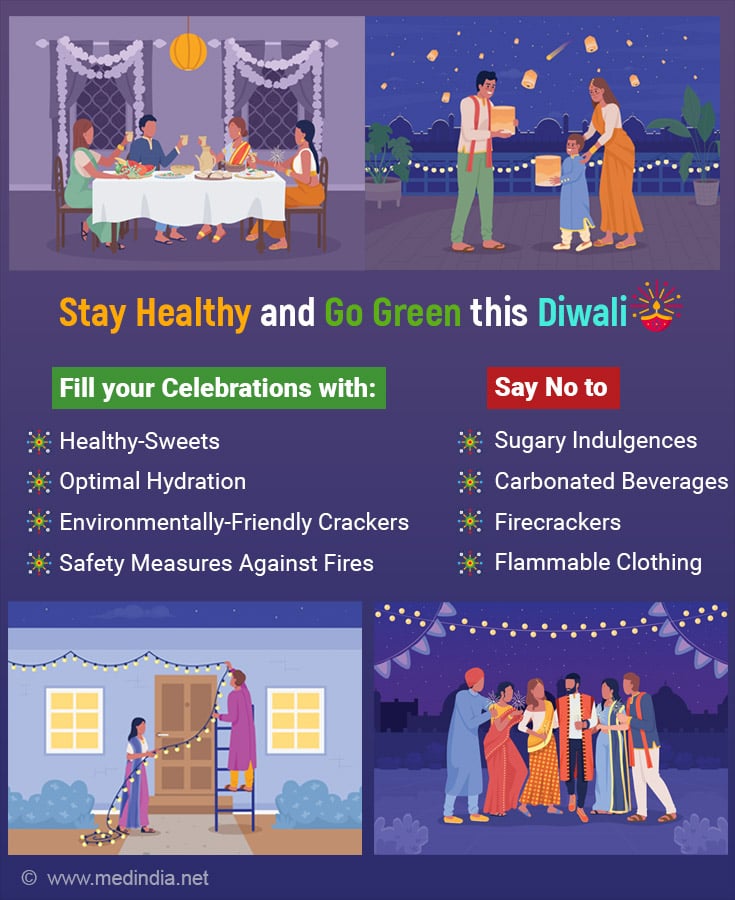 Here are a few health tips to keep in mind to celebrate a healthy and safe Diwali this year.
Diwali means loads of sumptuous food, and nobody can resist that. We are enticed to purchase and consume food and sweets from outside in this instant period, which can result in a number of health issues.
The following tips could assist you in striking a balance between celebration and diet:

Sweet treats that are naturally sweetened and prepared with healthy sugar alternatives such as dates, jaggery, raisins, honey, etc. will help ward off lifestyle diseases, blood sugar spikes, and weight gain

A healthy present for your loved ones can also be homemade sweets and savory snacks

Stay clear of fatty meals and consume a diet high in whole grains, vitamin C, zinc, magnesium, and omega-3 fatty acids, as well as fresh fruits and vegetables. These nutrients support your body's ability to fend off infections and boost immunity

Make sure that everyone, especially children, washes their hands before handling or consuming any food
2. Stay Hydrated
Drinking water helps detoxify the body and avoid acid reflux and indigestion. An adequate intake of water moisturizes your skin and keeps it radiant and shining for the festive season. Here are some tips on staying hydrated:

Drink water at regular intervals to avoid dehydration

Avoid bottled juices and aerated drinks, as they include dehydrogenasing ingredients.
Avoid excess alcohol intake
3. Do Not Skip Your Fitness Regime
It is common to indulge in overeating during the festive season. Regular exercise helps burn extra calories and improve your immune system. The following tips can help you stay fine and fit during the festive season:

Do not avoid or skip any of the exercises or physical activity with the excuse of the festivities

Be consistent in your regular workouts, be it a morning walk or yoga

Easy workouts like cycling, jogging, and morning walks keep you active, energetic, and in good health, in addition to keeping you socially involved with your friends
4. Fire Safety
Our homes are illuminated with gorgeous clay lamps and diyas during Diwali. Although diyas brighten our lives, they can sometimes lead to fire mishaps. Thus, make sure that you and your loved ones are safe from fire-related accidents with the following tips:

Refrain from using lamps and diyas made of plastic and other hazardous materials

Encourage the use of environmentally and health-conscious products, such as clay lamps, and clay diyas

Keep children and pets away from diyas to prevent unintentional burn injuries

Make sure the lamps are kept away from anything that could catch fire, such as drapes, curtains, electrical lines, and other flammable objects

Avoid using hand sanitizers before lighting candles, and diyas as they are inflammable and may cause fire accidents
5. Environment Safety with Crackers
Diwali celebrations aren't complete without firecrackers, especially if you have kids and teenagers in the household. However, if not used appropriately, crackers release harmful chemicals and might cause fire mishaps.

Advertisement



The prevalence of respiratory ailments, including coughing, wheezing, and burning sensations in the eyes, is increased by the poisonous smoke and particulate matter from crackers (1
✔
✔

Trusted Source
Characterization of PM10 and Impact on Human Health During the Annual Festival of Lights (Diwali)

Go to source
).
A higher risk is posed to those with asthma, COPD, or other respiratory conditions by the elevated air pollution (2✔ ✔Trusted Source
Potential impact of fireworks on respiratory health
Go to source).
Noisy crackers can cause hearing loss or elevated blood pressure in the elderly and newborns. Cracker noise pollution is a major source of disturbance for domestic animals, including birds and pets. The following tips could help tackle the cracker menace:

Choose green crackers instead of regular ones since they are healthier and less harmful to the environment

Use good-quality firecrackers to lower the possibility of accidents

Be prepared by donning masks that cover mouths and noses while stepping out of the house

Patients with asthma are advised to carry their inhaler with them

Noise pollution from crackers or loudspeakers could cause eardrum damage and aggravate heart rate in young and people with underlying heart diseases. Earbuds or earplugs could help prevent such unpleasant events

Select firecrackers with a low decibel output to minimize noise pollution

Take good care of your pets; confine them to your house, cover their ears, and close curtains

A bucket of water or sand is always useful to put out a fire
6. Wear the Right Clothes
When playing with fireworks, be sure that everyone in the family—adults and children alike—is dressed comfortably in cotton. Avoid wearing garments made from synthetic materials that can quickly catch fire.
Ensure that the clothing on your kids covers their arms and legs and includes appropriate footwear while bursting crackers. Flowing, trailing clothing like a dupatta is easily ignited. Make sure they are correctly pinned back.
7. Keep First Aid Kit Handy
The most crucial safety advice is to always have a first-aid kit available in case of emergency. Make sure the phone numbers for the police, fire, and medical departments are written down. When using firecrackers, keep a fire extinguisher close by.
8. Quality Time with Family
Family time can be greatly strengthened during festivals. Try spending this festival without using any electronic gadgets and see how the good old days of laughter come back to you and your loved ones.
Giving homemade, nutritious snacks and sweets as gifts to family members can be a way to express your love and gratitude. Spending quality time with your family creating crafts like lanterns and diyas can be a lot of fun.


Post-Diwali Detox
Additionally, Post-Diwali detox is crucial. Here are some tips to ensure your body gets the right Diwali after-care:

Balanced diet

Adequate sleep

A consistent workout regimen

Reverting back to routine eating patterns
Celebrate Diwali with your loved ones, and allow the occasion to fill your life with optimism, joy, and health!
Disclaimer: The content on this page is meant to be an informative resource and is not meant to replace advice from a medical professional. It is always best to consult a healthcare provider if you have any concerns.
References :
Characterization of PM10 and Impact on Human Health During the Annual Festival of Lights (Diwali) –

(https://pubmed.ncbi.nlm.nih.gov/30560005/)

Potential impact of fireworks on respiratory health –

(https://www.ncbi.nlm.nih.gov/pmc/articles/PMC4220320/)
Source: Medindia