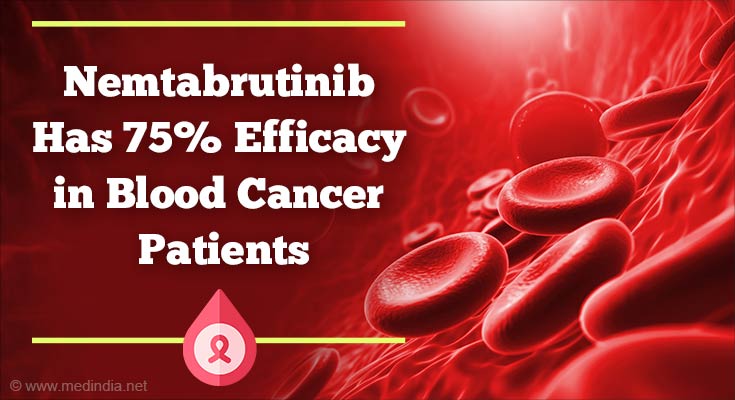 Jennifer Woyach, M.D., a hematologist and study lead investigator, notes that roughly a half-dozen medications are available to treat these B-cell malignancies. Although most patients initially respond to these medications, many people have illness progression over time.
"Blood cancers that have relapsed after initial treatments can be difficult to treat, and even with our effective medications, some patients run out of standard treatment options. In this trial, nemtabrutinib looks very promising for patients whose
has progressed after other treatments," said Woyach, who is co-leader of the Leukemia Research Program at the OSUCCC – James.
When an antigen, such as a virus or bacteria, enters the bloodstream, it sets off a chain of events that causes B-cells to create antibodies. This process, according to Woyach, goes wild in some people. Instead of battling infections, B-cells continue to proliferate uncontrolled, leading to cancer. B-cell cancer drugs function by interacting with a crucial enzyme known as Bruton's tyrosine kinase (BTK). This enzyme takes part in the signaling process. The medications inhibit the enzyme's function, causing the aberrant B-cells to die (
).
With existing medicines, this effect is only transient in many people. The BTK enzyme to which the medications bind mutates with time, rendering them unable to inhibit its effect. The cancer will soon return. Nemtabrutinib was developed to bind to BTK even in the presence of frequent mutations that render existing BTK inhibitors ineffective. It also interacts with a variety of proteins that are crucial in B cell malignancies in addition to BTK. These two characteristics make this medication intriguing for research in this patient population.
Dose of 65 mg Nemtabrutinib Helps Patients with Recurrent Blood Cancer
The novel medicine was evaluated on 47 patients who had previously had at least two treatments for blood malignancy. More than half of these patients had relapsed CLL, while the rest had NHL. The patients were given one pill of nemtabrutinib every day, with varying doses throughout the experiment. They tracked the patient's responses to the medicine over time and kept an eye out for negative effects.
Advertisement



The study discovered that at an optimal dose of 65mg, the medication helped more than 75% of individuals with recurrent CLL. Patients with BTK mutations were among those included. During the experiment, the majority of patients were cancer-free for at least 16 months. While all patients experienced adverse effects, as is normal with chemotherapeutic medications, many of these were small and treatable, demonstrating that the drug was also extremely safe.
"The drug is being moved to larger and more definitive trials, where it will be compared against other standard-of-care drugs, and in combination with other active medications," said Woyach.


Prevalence of Blood Cancer in United States
In the United States, one person dies from blood cancer every nine minutes, while someone is diagnosed with the condition every three minutes. This trial's blood tumors target a specific type of white blood cell called a B lymphocyte, which is responsible for making antibodies and fighting infections. CLL is the most frequent leukemia, accounting for one-quarter of all adult leukemia cases, and NHL accounts for 4% of all cancers in the United States.
Reference :
First in Human Study of the Reversible BTK Inhibitor Nemtabrutinib in Patients with Relapsed/Refractory Chronic Lymphocytic Leukemia and B-Cell Non-Hodgkin Lymphoma –

(https:aacrjournals.org/cancerdiscovery/article-abstract/doi/10.1158/2159-8290.CD-23-0670/729945/First-in-Human-Study-of-the-Reversible-BTK?redirectedFrom=fulltext)
Source: Medindia