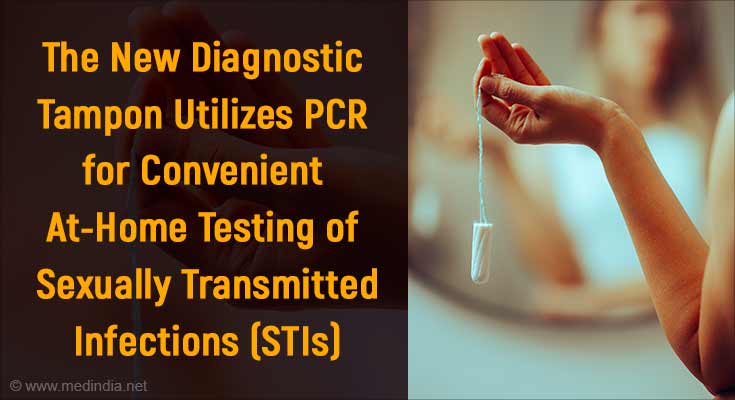 , trichomonas, mycoplasma, and ureaplasma. Notably, this tampon replaces the conventional swab or speculum, providing a more accessible and user-friendly approach to STI screening (
).
One of the primary objectives of this screening kit is to expedite the diagnosis and treatment of STIs, especially among individuals who may feel anxious or embarrassed about seeking such tests.
With growing numbers of people experiencing STIs, there was a substantial 24% increase in 2022 compared to the previous year, as reported by the UK Health Security Agency. Women, in particular, are statistically more susceptible to STIs due to their vaginal physiology.

Advertisement



It empowers women to take control of their sexual health in a noninvasive manner within the comfort and privacy of their homes. This development represents a significant step towards reducing the stigma associated with STI testing.
The Process and Benefits of the Tampon-Based Test
The tampon is sent to a laboratory for testing, and results are typically available within five working days. The unique applicator design allows users to access their cervix without the need for a speculum, making the process more comfortable and convenient.
It also empowers users to take ownership of their health, which has historically been a private and often isolating experience for some.
Moreover, this method of collection opens the door to previously neglected research on the vaginal microbiome. In its user-friendly format, it encourages more people to participate in research in this domain.

Clinical Significance and Concerns About Overdiagnosis

While the tampon-based test offers a convenient and less invasive alternative for STI screening, there are considerations regarding clinical significance. Epidemiologist Emma Harding-Esch, an associate professor at the London School of Hygiene & Tropical Medicine, cautions against at-home testing for organisms of doubtful clinical significance, such as ureaplasma.
Daye acknowledges concerns about over treatment and antibiotic resistance and addresses these issues in its clinical protocols. Education about restoring a healthy vaginal microbiome is an integral part of their approach.

Treatment is recommended only when there is a high bacterial load and no other infections or a history of unexplained recurrent pregnancy loss.
The launch of this innovative tampon-based testing method follows clinical trials involving 600 patients. Valentina Milanova, the founder of Daye, emphasizes the benefits of this approach, citing a low test failure rate compared to traditional swabs. The company is committed to reducing patient wait times and improving access to care.
In conclusion, Daye's introduction of a tampon-based STI diagnostic tool presents a promising and convenient way for individuals to take control of their sexual health.
While this innovative approach offers numerous advantages, careful consideration is required to balance convenience with clinical significance in STI testing.
Reference :
The Tampon Test as a Primary Outcome Measure in Provoked Vestibulodynia: A Mixed Methods Study –

(https:pubmed.ncbi.nlm.nih.gov/33967000/)
Source: Medindia